BEYBLADE -FIERCE BATTLE
Beyblade: The Movie - Fierce Battle (Bakuten Shoot Beyblade The Movie: Gekitou!! Takao vs Daichi in the Japanese version) is the 2002 Direct-to-DVD and the first Beyblade film and is based on the anime, Beyblade. It is 70 minutes long, thus making it quite a short movie.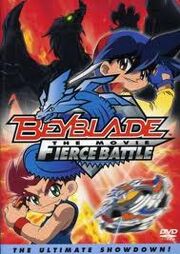 The Bladebreakers are on a well deserved vacation. But, a hyperactive kid named Daichi Sumeragi continues to pursue Tyson for a rematch after his defeat in the Beyblade World
Championships. The Bladebreakers' vacation eventually takes a turn for the worst once they encounter mysterious Beybladers who claim to be the Dark Spirits sealed inside a strange temple. With Daichi under their control, the Shadow Bladers seek to destroy the world with their Dark Bit-Beasts. Together, Tyson, Max, Ray, and Kai must save not only Daichi... but the world as well.
Trivia
In Japan, the movie was aired before G-Revolution's original run, making it the "official" debut of Daichi. After the events of the movie, the Blade Breakers split up, Ray returning to the White Tiger team, Max joining the AllStarz, Kai creating Neoborg and Tyson forming a new team with Hilary, Kenny and Daichi. In the manga, a special chapter was produced to introduce and advertise the movie upon release. Because the movie was produced after G-Revolution instead of before it, the English translation of the chapter was released in the final volume of the manga instead.
When Dragoon released itself from the seal and prepared to enter the Tyson's Beyblade the Beyblade turned red but later turned back to white. Takara also released a red version of Dragoon V2.
if any one require download link please post a comment.